Getting here
Getting to Waterford
In order to get exact directions to Waterford City from all locations in Ireland, please click here to print off your desired route: http://www.theaa.ie/routes/.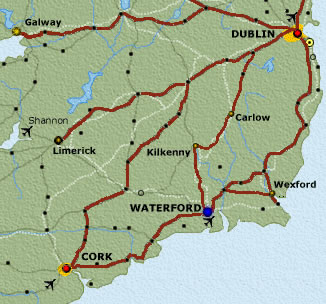 Position of Waterford within Ireland
Directions From Waterford City Centre
We are located 3 miles from Waterford City Centre just off the Cork Road (N25). Travelling towards Cork, you will pass Waterford Crystal and Waterford Institute of Technology (WIT) on your right. Turning right at the traffic lights at the end of the WIT campus you continue for approximately 500 metres before turning left into the IDA Estate (you will see a branch of AIB as you turn). Continue on this road for approximately 500 metres and you will come to a crossroads. From there you will see the Sun Life building diagonally across from you on the right. Free parking is available at the front of our building near our reception area.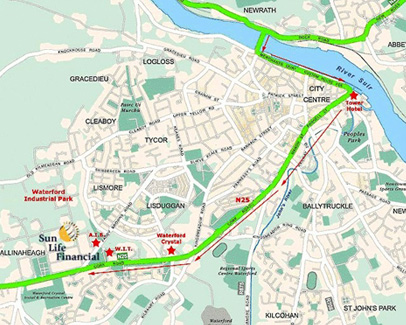 Map to Sun Life