Learning and development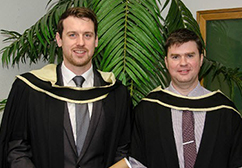 Sun Life Financial is fully committed to developing our employees to the fullest of their potential. We work extensively with all our colleagues to understand their training needs and we are proud to provide excellent internal and external training opportunities to meet those needs.
The Sun Life Ireland Learning & Development (L&D) team works very closely with our U.S. and Canadian colleagues to provide access to vast amounts of online and in-person training. We have a "Global Learning Centre", which is Sun Life's online portal and serves as a rich and valuable tool for employees to access online tutorials, videos, and a Books 24/7 archive.
Sun Life Ireland supports and promotes certification and qualification opportunities for all staff. Sun Life has partnered with the industry-standard Life Office Management Association (LOMA) to provide an extensive range of courses and accreditations related to the insurance industry. Sun Life Ireland has been presented with an "Excellence in Education" award from LOMA several years in a row in recognition of outstanding performance and commitment to employee professional development.
More locally, Sun Life Ireland has developed a very close relationship with Waterford Institute of Technology (WIT). Located just a 5 minute walk from the Waterford office, employees have availed of numerous courses such as the Higher Diploma in IT (BSA), Masters in Distributed Systems and Masters in Enterprise Business Systems. Experienced Sun Life staff members have helped to shape the content of these programs over the years and one of our senior leaders is a visiting lecturer for one of the Masters programs.
Sun Life Ireland also sponsors two prizes for undergraduate IT programs in WIT known as the "Sun Life Innovation Award" and the "Sun Life Enterprise Award." As the biggest IT employer in the South East, it is crucial to develop and maintain a relationship with talented graduates and provide them with local employment opportunities.
We recognize the innate ambition and desire of people toward advancing their education and so we have a comprehensive education package in place to support this.
Our L&D team, which has been accredited by the "Excellence Through People" award, delivers a variety of training at all levels – including many technical courses such SQL, databases, Excel and other Microsoft applications. Furthermore, we also provide career development training in areas such as coaching, communication/presentation and time management skills. Leaders within Sun Life are also offered dedicated tools and training focused on improving their management style and techniques.